How It All Began
---
The vision for Beth Israel began with Gary Selman, a Messianic Jewish businessman with a heart for sharing the Gospel to Jew and Gentile alike. Helping this vision become a reality was Reverend Charlie Rizzo of the Church of the Nazarene who gave early support to the new work.
Beth Israel became an independent work in 1988 under the leadership, pastorship, and rabbinate of Jonathan Cahn. In this first year it grew from a congregation of about 35 people to three times that size. It soon outgrew its first home in the Paramus Church of the Nazarene, but there was no money for a building.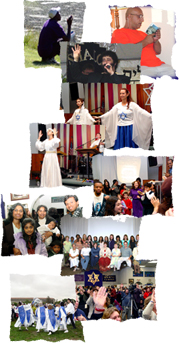 It was then that an American Indian, "Wahu" Fuchs showed up on a Friday Night Service and told Jonathan that he was "the one." He further told Jonathan that God had instructed him to give him a check for $150,000, which he did, and which provided the funds needed for Beth Israel to purchase its first building.
After meeting a few months in the Holiday Inn in Paramus, Beth Israel moved into its first building, a former moose lodge on Garibaldi, Ave, in Lodi, New Jersey .
In 2008 Beth Israel moved into its new Worship Center in Wayne, New Jersey, three times the size of the center in Garfield: The Jerusalem Center. The Jerusalem Center is modeled after the city of Jerusalem. The walls have all the ancient gates of the city, the stage is lined with the stones matching the Western Wall of the Temple Mount, and the entrance to the Holy Temple. It's a reminder of the Jewish roots and destiny of faith in Messiah. Every Friday night and Sunday morning, Jew and Gentile, people from all nations gather together at the Jerusalem Center to worship the Lord and grow deeper in the riches and mysteries of God's Word.
The Jerusalem Center is located at 11 Railroad Ave., Wayne, New Jersey, 07470. Main services are every Friday Night at 8pm and every Sunday Morning at 11am.
Beth Israel is known for being a place of excitement, joy, love, vibrant worship, deep and powerful messages, the Spirit of God, and Jew and Gentile as one in Messiah. It is made up of people of every background, country, tribe, and tongue, and is wonderful to experience and be a part of.